Return to the Salt Flats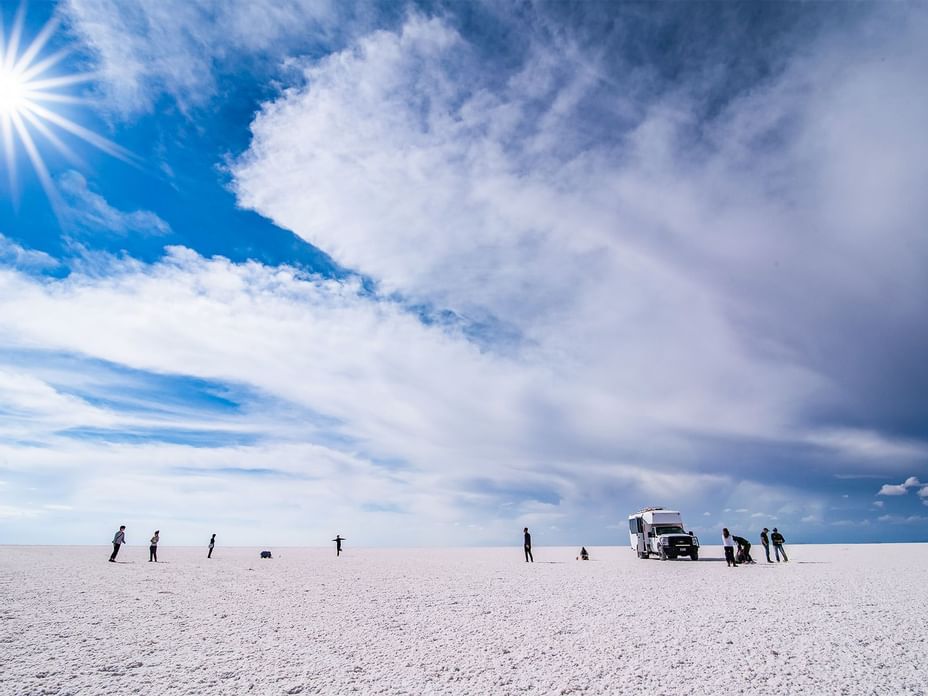 DAY 1
Pick up passengers from bus station in Uyuni or airport.
9:30 am: Visit to the Train cemetery, a remembrance of the first locomotives in Bolivia where you can take incredible photographs, on the way we visit the town of Colchani to see the artisanal processing of salt and the handicraft market.
Return to the Hotel Luna Salada for a delicious lunch tasting.
12:00 pm lunch at the Tunupa Restaurant, Reach the great Salar de Uyuni, the only place where the sky meets the ground becoming a ""Salt mirror"", visit Playa Blanca, The first hotel made salt, now turned into a museum, right there you will see the Monument dedicated to the Dakar competition, which has crossed the Salt Flats for the past years, the island of Flags, where all the visitors are welcome to place their home flag. Continue on the white surface and admire the spectacle of the sky changing colors while waiting for the sunset.
Return to the hotel.
Dinner at Restaurant Tunupa.
Night at Luna Salada Hotel
The Hotel has hot water and heating 24 hours a day. The hotel has all the biosecurity measures and a certificate issued by the Government of Potosí. The hotel also has oxygen bottles at the reception, if required.

DAY 2
Breakfast at the hotel.
Transfer Out from Luna Salada Hotel to the Uyuni bus station.

*Daily itinerary is subject to modification depending on weather conditions*

Special Rate/Amenities Offered:
Shared transfer In-Out.
1 Night accommodation
1 Lunch at the hotel.
Water during the tour.
1 Breakfast at the hotel.
1 dinner at the hotel.
1 night of accommodation at the hotel.
Shared transportation for the tour.