Unique hotel entirely made out of salt
Luna Salada
Bolivia Salt Resort
Luna Salada Hotel is a sumptuous, secluded retreat for adventure nestled at the edge of the Uyuni Salt Flats of Bolivia. Fashioned almost entirely out of salt, our hotel welcomes you to discover one of the most mystical places on Earth. Step out onto the salt pans just meters from our doors to experience a vast expanse of brilliant white as far as the eye can see. Equally stunning views of Salar de Uyuni can be taken in from every window at the hotel.
Within the hotel, the warm Andean décor of vibrant colors and ancient textiles mixes with rustic bricks and woods and the salt block construction to create an ambiance that is truly one-of-a-kind. During the winter, glowing fireplaces lend a touch of coziness and warmth.
Reconnect with nature
Step away from the modern world and reconnect with nature in this ancient and remote corner of Bolivia. Relax in hotel rooms and suites beautifully designed with vibrant Andean charm, art, and furniture. Savor delicious regional cuisine at our on-site restaurant, Tunupa, where you'll enjoy a free breakfast to start your day off right. For undisturbed relaxation, indulge at our spa either in the steam room with panoramic views of the salt flats or by booking a massage.
Luna Salada Hotel is a sanctuary for adventure seekers and the spiritually curious, with an array of outdoor activities and excursions connecting you to the surrounding beauty of Bolivia's salt flats in unique and wonderful ways.
Rooms
Perched at the edge of Bolivia's Uyuni Salt Flats, Luna Salada Hotel offers a unique and unforgettable setting for your Salar de Uyuni getaway. Almost all of the rooms at our hotel are built entirely out of locally harvested salt, from the walls to the furniture, and even the floor. And yet, Andean-inspired creature comforts and charms abound with bright, locally woven fabrics, plush, warm bedding, and breathtaking views of the expansive Salar de Uyuni.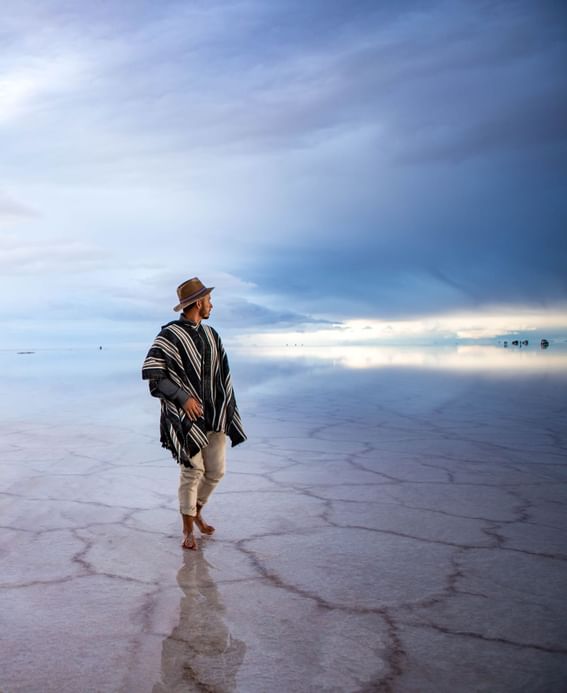 Excursions
When it comes to exploring the ancient salt desert of Bolivia, guests of Luna Salada Hotel enjoy a full immersion in this stunning landscape.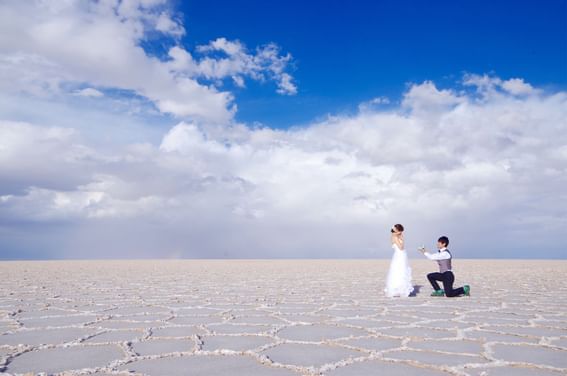 Events
Luna Salada will make your Salar de Uyuni event easy to organize and coordinate. Discover all our amazing services to make unforgettable memories!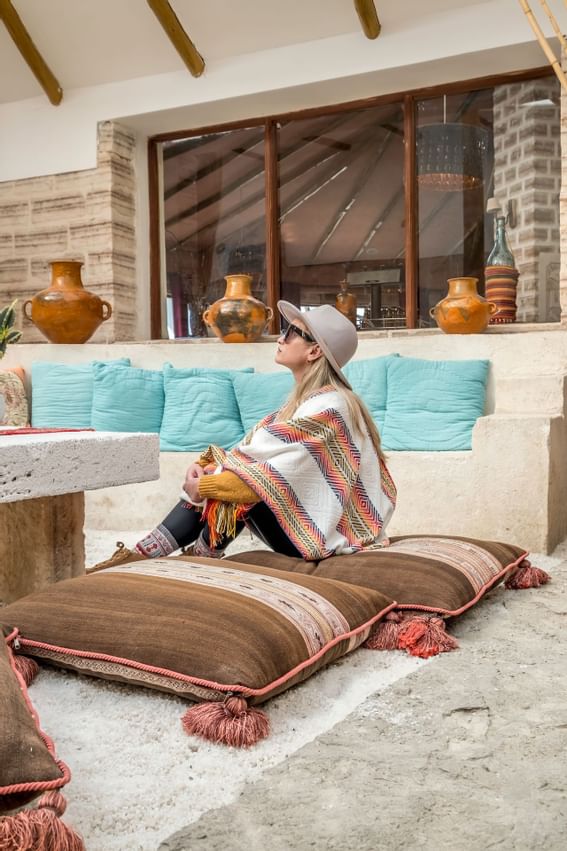 Amenities
Luna Salada Hotel offers you personalized travel planing services for a tour in Salar de Uyuni, and when you come back be sure to rest in our exquisite installations.
Local Attractions
Visiting the salt flats of Bolivia is the experience of a lifetime—make the most of your visit to this natural phenomenon by exploring the other attractions that were created by nature and by people because of the salt.
Spa
Relaxation awaits
Steeped in the beauty of mysticism of the Bolivian salt desert, Luna Salada Spa is a rustic retreat designed with your well-being in mind.
Dining
Luna Salada Hotel is home to the best restaurant in Uyuni and the surrounding area. From romantic dinners to intimate gatherings with all your loved ones, Tunupa Restaurant is the perfect dining option to delight both guests and visitors. Come and enjoy spectacular panoramic views of Salar de Uyuni, excellent Bolivian and international cuisine, and a wide selection of wines from our wine cellar stocked with vintages from all over the country.